June 4 to 25, 2015
Susan Lisbin and Katinka Mann: Recent Works
Vera Sapozhnikova: Moving Forward, Recent Paintings
Ben Wolhberg: On the Wall
Susan Lisbin exhibited recent paintings and sculpture for her first show at the Carter Burden Gallery. Lisbin's work explores abstract forms that articulate her views on relationships. The lines, gestures, shapes, colors, and materials represent how individuals relate to each other in regards to dependence, independence and co-dependence. Lisbin's work draws attention to the physical and emotional space. Her paintings reveal the complexities of how forms interact through the many layers and marks. The three pieces of sculpture on exhibit come from Lisbin's Chair Parts series, which include pieces of chairs that had been a part of her former marriage. Following a divorce, Lisbin repurposed the emotionally charged chairs into new sculptures. What once helped support a relationship that ended in divorce, now forms a new relationship with clay.
Katinka Mann is displaying two recent pieces for her first exhibition at the Carter Burden Gallery. Mann's current work explores reflected light, illusion, shadow and color using a trapezoidal form within a larger form. The larger, exterior shape is organic in contrast to the off centered geometric form within. Her chosen material for her current work is heavy painted aluminum. Before using the trapezoid, the hexagon, was Mann's mandala. In reducing her focus to the hexagon, and now trapezoid, she has an endless source to draw upon.
Vera Sapozhnikova exhibited new paintings for her third solo show at the Carter Burden Gallery. Her paintings are vibrantly colorful with confident brushstrokes. Sapozhnikova's recent paintings continue to show her progression as a self-taught artist from representational imagery based on memory to more abstracted visual suggestions, enabling the paint to have its own voice. Her determination to paint results in unique and bold marks on the canvas, revealing Sapozhnikova's optimistic approach to being a painter. Her paintings are refreshing and invigorating.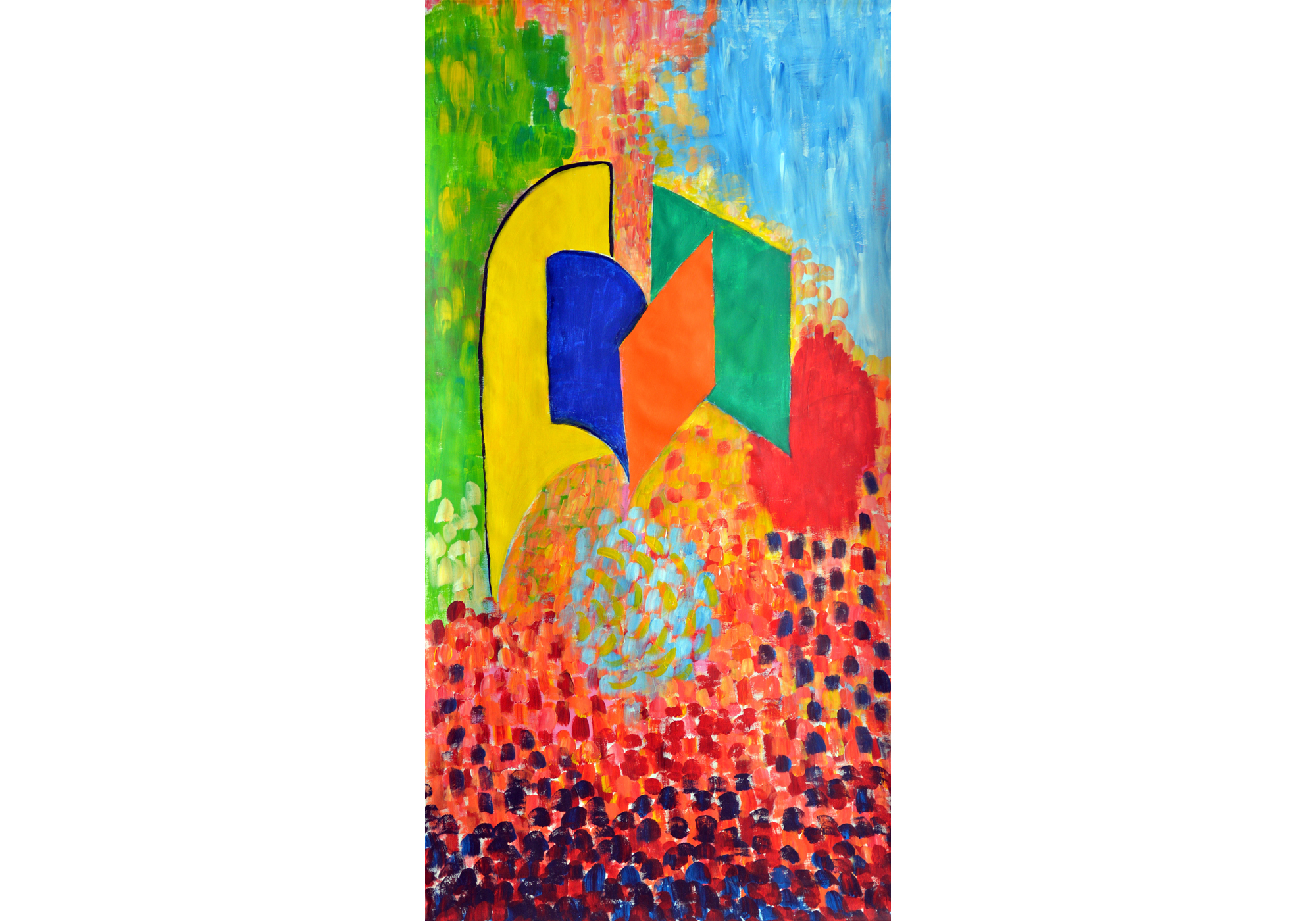 For his first show at the Gallery, Ben Wohlberg was featured in the installation space, On the Wall. Wohlberg will exhibited a large abstract painting on unstretched canvas. Wohlberg is inspired by nature; he aims to translate the microcosmic lights, colors, and shapes into an expansive abstract macrocosm. His practice involves experimenting with gestural strokes of viscose surfaces and thin washes that allow for him to discover and respond to the colors and surfaces. The final paintings invite viewers to reflect on the abstractions.